On December 15, 2017, in full accordance with the schedule planned many months ago, the research vessel "Akademik Aleksandr Karpinskiy " departed from St. Petersburg to the shores of Antarctica on its 48th voyage as part of the 63rd Russian Antarctic Expedition (RAE).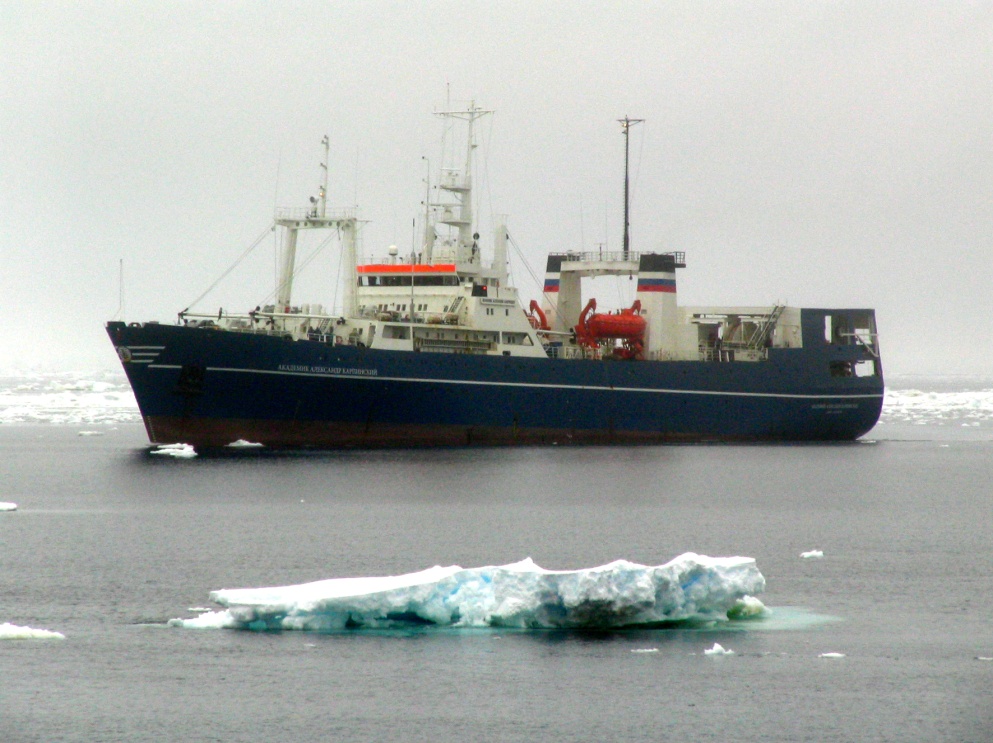 R/V "Akademik Aleksandr Karpinskiy" in the voyage
In the forthcoming field season, it is planned to perform complex geophysical studies in the Northwestern part of the Weddell Sea, which belongs to the Atlantic sector of the Antarctic continental margin, still poorly covered by modern geological and geophysical research.
Works involving seismic exploration by the method of the common midpoint (CMP) method, multi-beam echolocation profiling, differential hydromagnetic survey, gravimetric survey, will be conducted within the framework of the 63rd RAE program. The scientific tasks of the forthcoming studies are focused on studying the deep structure of the Earth's crust of the Weddell Sea, revealing the regularities in the distribution of sediment complexes that make up the sedimentary cover, studying the seabed geomorphology, and assessing the prospects of oil and gas potential.
| | |
| --- | --- |
| The position of the 63rd RAE marine geophysical research in the Weddell Sea | Location of the 63rd RAE planned sea geophysical profiles in the Weddell Sea |
A total of 48 PMGE employees set out on the voyage, including 33 crew members. Captain - Rybnikov E.A., Head of the voyage - Ksenofontov I.V. The ship plans to arrive in the area of work in late January - early February 2018. On the way to the port of Montevideo (Uruguay), seven more geophysicists will join the main research group on board the ship. The duration of work at the site is 35 days. The return of the R/V "Akademik Aleksandr Karpinskiy" to St. Petersburg is planned for April 2018.
Lunev P.I.